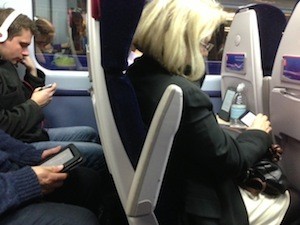 So I get on my train, grateful for a seat at rush hour out of London, and can't help noticing what's going on around me. Everyone – and I mean everyone's on a smart 'phone or tablet – ignoring the person next to them. Some are even wearing 'don't talk to me' headphones!
The guy next to me sneezed. I opened my mouth and closed it again – now I'm thinking about it, he really didn't look as though he wanted to be blessed!
So, instead – I took my 'phone out of my bag and started deleting junk emails! 🙂
If you can't beat 'em…..