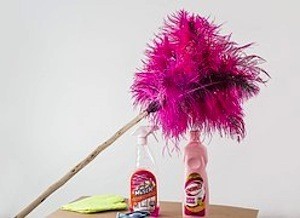 Another name for discovering a part of the house that urgently needs cleaning just when you had planned to knuckle down to revising for your Project Management exams, is procrastination! It comes under the heading of avoidance activities.
We've all been there! We were just going to sit down to revise, but realised the hob needs cleaning. Now! Once that's done we thought we might as well finish the kitchen work surfaces. And there's no point in leaving it there. Unexpectedly, the urge grabs us to wipe down the cupboard fronts, mop the floor, put a load of washing on, vacuum the hall…
Sound familiar?
Studying is hard work. It can be very enjoyable and fulfilling work, but it is hard work nevertheless. Your automatic, unconscious mind just wants you to feel comfortable, and will thwart your good intentions to study. Anything's got be to be easier than revising.
Perhaps you need to give yourself some tough love, acknowledge that while you'd like to avoid the challenge, you recognise how good you'll feel when you've made some progress. Focus on what passing the Project Management exams will do for you. And above all, regardless of how you feel, pay attention to your commitment to yourself, and just do it!
If you want to find out more about how you can cut hours off your revision and pass your Project Management exams easily, take a look at Genius Material, the complete revision system for exam success.