Is your child struggling at school?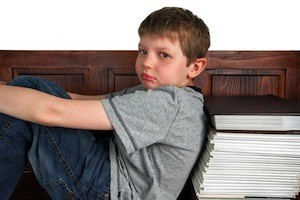 Before I talk about 'the kids of today' I want to mention that we caught ourselves on Grand Designs again last Monday, while looking for University Challenge.
Sorry, I didn't realise it was going to be on, or I'd have told you. The programme is repeated often, so if you ever see it advertised, do let me know and I'll pass on the details. Some people actually want to see it!!
It think it was on More4+. We watched the other side and made our usual heroic, but predominantly futile attempt at answering the questions!
And talking of feeling like a failure…
Is your child struggling at school?

There's an enormous amount of stress on the kids of today. Is your child:

Failing or only scraping by in exams

Spending far too long revising and not getting the results they deserve?

Worrying themselves sick?

Anxious?

Stressed?

Depressed?
Managing your emotions, developing a revision strategy that works, even increasing your IQ is easy. Anyone can – if you know how. But they still don't teach any of this stuff in schools.
I'm on a mission to change all of that through Genius Material, but don't wait any longer if your child needs help.
Don't wait until they've got another set of duff exam grades and have made themselves even more miserable.
Let me help your child NOW, so they can use their new skills and new-found confidence immediately and for the rest of their lives.
Danny is typical of the teenagers I help with revision and self-management skills.
They pick up the skills and understanding they need very quickly. And once they have – passing exams and coping at school become a piece of, um…
ahem…

!!   🙂
"After working with Lysette, my daughter has increased in confidence, showing real results and significant improvement in her studies. My daughter's attitude to learning has improved and her confidence has grown as she can see the good results from the revision that she does and how it impacts on her marks at school. So we are both happier!"
Jayne Johnson, Better People Ltd