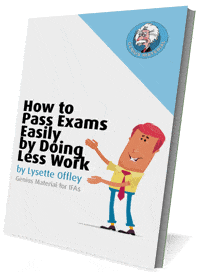 If you feel your CISCO Accreditation revision strategy has room for improvement and you're tired of wasting your time doing things that don't work, and you just want to cut to the chase and get the job done efficiently, then have a look at the many Genius Material options developed to answer the question, "But how?"
If you want to brush up on your technique, and merely dip a toe in the water, then you might be interested in my book: How to Pass Exams Easily by Doing Less Work – Genius Material for Financial Services Exams. You can get it from Lulu Publishers.
It's also available in Amazon's Kindle store.
Alternatively, you can dive straight in and become a member of the Genius Material Academy.
I show you exactly how to spend your time wisely, using tried and trusted techniques, based on how Human beings learn best and in particular according to the way your brain already handles information beautifully. 
And let me let you in on a little secret. The Genius Material resources are not just for CISCO Accreditation exams. Some of the people using my system are pilots, in financial services, police, computer programmers, GCSE and A Level students, so if you know anyone who could do with a little help with revision – then do send them our way. Seems daft for anyone to struggle with revision, all for the lack of a good revision strategy – which is so easy to learn.
After all, I don't teach the content of exams, but the process, the structure of learning, so that they retain the information they learn.
So, to conclude then, what do you do if what you're doing isn't working…
Well, it's said to be a sure sign of madness to keep doing the same thing over and over again, expecting a different outcome. So if what you're doing isn't working, the first thing to do is stop!
Of course, the next thing to do is to look at how you made your study notes.
When did those notes really help you, and when not so much.
Analyse what worked better to inform what you do next time you make notes. It's a learning process and the more attention you pay to what you did that worked, the quicker you'll develop a system that works just for you.
And, just like the hokey kokey – that's what it's all about!